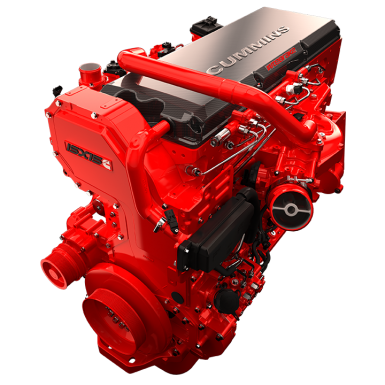 The base X15 combines the best of everything a customer needs: performance, efficiency, and uptime, so you can truly 'have it all'.  Beyond the base engine, the X15 is being offered in two distinct ratings groups – one for customers who need even stronger pulling power with the 'Performance Series', and one that gives you maximum fuel economy and lowest total operating cost with the 'Efficiency Series'. Regardless of which engine is optimized to meet your needs, you can rest assured each engine will keep running down the road, proven in over 9 million real world test miles by launch.Performance Series. 485-605 HP.
For customers who need maximum pulling power and performance, the X15 Performance Series will be offered with ratings from 485 hp to 605 hp (362-451 kW). These performance-focused engine ratings are being optimized to provide customers with prolonged peak torque, for a broader power band. This provides an ample RPM operating range to climb mountains or haul heavy loads with ease and less gear-shifting.
Efficiency Series. 400-500 HP.
The X15 Efficiency Series is optimized to deliver peak torque at lower rpms and enable further downspeeding without compromising driveability. Optional ADEPT™ technology previews upcoming terrain and adjusts engine and transmission performance to minimize downshifts and maximize fuel economy.