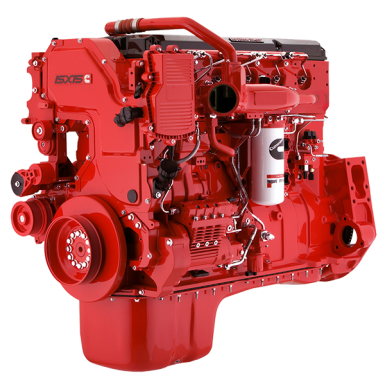 Expect superior driving performance and industry-leading fuel economy with Cummins ISX15 EPA 2010 engine.  Every element has been designed and manufactured to optimize performance, reliability and durability while delivering the lowest operating costs of any engine in its class.  Ratings range from 400-600 hp with a maximum 2050 lb-ft of peak torque.
How did we make these improvements and still meet stringent 2010 emissions standards?  With a totally integrated system, that's how.  Everything from the advanced fuel injection technology, improved cooled EGR subsystem and Cummins VGT™ Turbocharger to the proven Cummins Aftertreatment System that includes Selective Catalytic Reduction (SCR) technology has been engineered and manufactured in-house.  The result is a totally integrated system delivering an engine that provides near-zero emissions without compromising performance.
And that's just a few of the features the ISX15 has to offer.  It is designed for superior fuel economy, performance and dependability while keeping maintenance at a minimum.
All backed by the best customer support in the business.